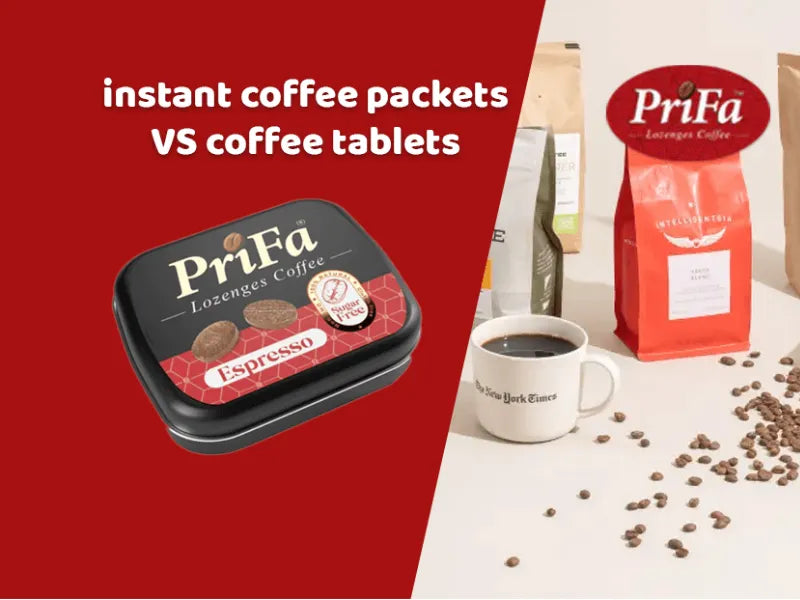 Coffee Tablets vs. Instant Coffee Packets
Long-standing discussions have revolved around the preferences of coffee lovers when deciding between coffee tablets and fast-preparation coffee packets. Each option has its advantages and disadvantages, with the ultimate decision resting on individual preferences and requirements.
In this Prifaco article, we will explore the details to assist you in making an informed choice that aligns with your specific needs.
Coffee tablets vs instant coffee packets
There is a difference between coffee tablets and instant coffee packets in several ways, and these differences are the reason for the different preferences, and we will mention the most prominent ones below:
1.  Composition
Instant coffee is made from natural coffee beans with the addition of some synthetic materials that give it its shape and texture. On the other hand, most companies choose to manufacture coffee tablets from natural coffee beans, along with other natural ingredients that provide energy and vitality.
2.  Preparation
Instant coffee requires mixing it with hot water to become ready to drink, while coffee tablets can be consumed directly from their packaging without any additions.
3.  Packaging
Instant coffee is typically placed in moisture-resistant packets, while coffee tablets come in boxes that are convenient for carrying in your pockets wherever you go.
4.  Meeting Different Needs
Those who enjoy the taste of freshly brewed coffee but lack the appropriate space for preparation may opt for instant coffee. Meanwhile, individuals seeking increased productivity during work, busy schedules, or while on the move may prefer ready-to-use coffee tablets.
5.  Caffeine Levels
The caffeine content in coffee tablets is relatively low compared to the energy boost they provide, and you can also control the amount you want. For example, Prifaco offers various flavors of coffee tablets, such as latte, espresso, and cardamom, each containing different caffeine levels. Instant coffee typically contains a higher amount of caffeine, making it less suitable for individuals with heart problems or high blood pressure.
[Read more about: THE SAFE AMOUNT OF CAFFEINE PER DAY]
6.  Drawbacks
Instant coffee has the following drawbacks:
The taste and quality of instant coffee can vary significantly depending on the manufacturer and production methods.
Some brands use lower-quality beans or spray-drying methods, resulting in a burnt taste.
As for coffee tablets, their drawbacks are related to personal preferences. They may not provide the experience of slowly sipping a cup of coffee as many prefer, but they offer a good taste and the natural energy and focus you need from a dose of caffeine.
Which to choose: coffee tablets vs instant coffee packets?
Choosing between coffee tablets and instant coffee depends on your criteria, based on the following:
Personal Taste
The most significant factor in deciding between coffee tablets and instant coffee packets is your personal preference. If you can't do without savoring coffee as a daily ritual, you'll opt for instant coffee. However, if you only need a quick coffee flavor and an instant caffeine boost, coffee tablets are the simple choice.
1.  Differing Coffee Goals
If you're looking for strength and energy to power through your work and be more productive, coffee tablets are your ideal choice because they contain ingredients that support your body's energy, in addition to caffeine. On the other hand, if you're seeking enjoyment, quick-preparation coffee may be better for you.
2.  Location of Coffee Consumption
Choosing the right type of coffee to consume depends on where you want to drink it. Coffee tablets are easy to transport to your desired location, making them perfect for travel or on-the-go in the morning. You simply need to place the pod in your mouth and sip. Instant coffee, on the other hand, requires hot water preparation and suitable conditions to carry a cup without affecting your surroundings or risking spills.
3.  Busyness
There's no comparison between the two options if you're busy. Coffee tablets require no preparation, effort, or time, whereas quick-preparation coffee will consume a bit of your time, effort, and attention, even if it's minimal.
What are the best coffee tablets in the United States?
If you're busy, on the go, or looking for a quick energy boost, we recommend choosing Prifaco coffee tablets for several reasons, which we'll summarize below:
Why should you choose Prifaco coffee tablets?
Prifaco offers the following benefits:
Prifaco coffee tablets are easy to use and carry. Just place one in your mouth, and you'll feel energized within minutes.
They are made from premium ingredients and natural coffee beans. They are GMO-free, gluten-free, and free from sugar and sorbitol.
Prifaco coffee tablets provide you with the perfect dose of caffeine without any artificial additives or flavors.
These coffee tablets have no old or bitter taste. They dissolve quickly in your mouth, leaving a pleasant and refreshing flavor.
Prifaco coffee tablets do not cause heart palpitations or any negative side effects. They are a safe and healthy choice for coffee lovers.
So, order your favorite Prifaco coffee tablets now, and don't hesitate to choose Prifaco! If you want to learn more about Prifaco coffee tablets, you can contact us at +01 23456789.
Edited by: Prifaco©
Sources: