Regular price
$9.99
Sale price
$12.99
Unit price
per
Sale
Sold out
Share
The New Era Of Coffee is Now In Your Pocket! Prifa Coffee Tablets provide a convenient way to enjoy coffee benefits on the go with premium ingredients. Enjoy the positive effects of coffee without the mess or fuss - just take the tablet and put it directly in your mouth!
Benefits

Introducing Prifa Coffee Tablets: a natural, energy-rich coffee product with caffeine for a quick boost in under five minutes. Suitable for everyone, it contains no sugar, sorbitol, gluten, or BMOS. Convenient and easy to use, get your energy and coffee fix anytime, anywhere.

Each tin brings the delight of 25 cups of coffee, all at the incredible value of less than 60 cents per cup. These natural, energy-rich coffee tablets are crafted to give you a quick and invigorating boost in under five minutes, perfect for fueling your busy day.
How to use

TRY ONE
Take a coffee tablet from the box and place it directly in your mouth.

EXPERIENCE IT
As the pressed bean dissolves, you'll notice a signature flavor transition, with the taste mellowing out.

ENJOY THE BENEFITS
Experience the quick effects of Espresso Prifa Coffee Tablets, such as increased focus, improved mood, and more.
Shipping Info

All orders are processed within 1 to 2 business days (excluding weekends and holidays) after receiving your order confirmation email. You will receive another notification when your order has shipped.

We rely on Amazon's reliable shipping network, including USPS, Fed Ex, and other carriers, to deliver your order in a timely manner. However, please note that we are not responsible for any potential delays due to high volume of orders or postal service issues that are outside of our control.

Domestic Shipping Rates and Estimates

All orders are eligible for free shipping with a minimum purchase amount of $49.99. Orders under $49.99 will be charged a flat shipping rate of $5.

Orders placed before 12pm PST will be shipped out the same day, while orders placed after 12pm PST will be shipped out the following business day.

International Shipping
We currently do not offer international shipping for orders fulfilled by Amazon MCP. All orders must be shipped within the United States.

Returns and exchanges If you are not satisfied with your order, you may return or exchange it within 30 days of receiving it. Please see our return and exchange policy for more information.


View full details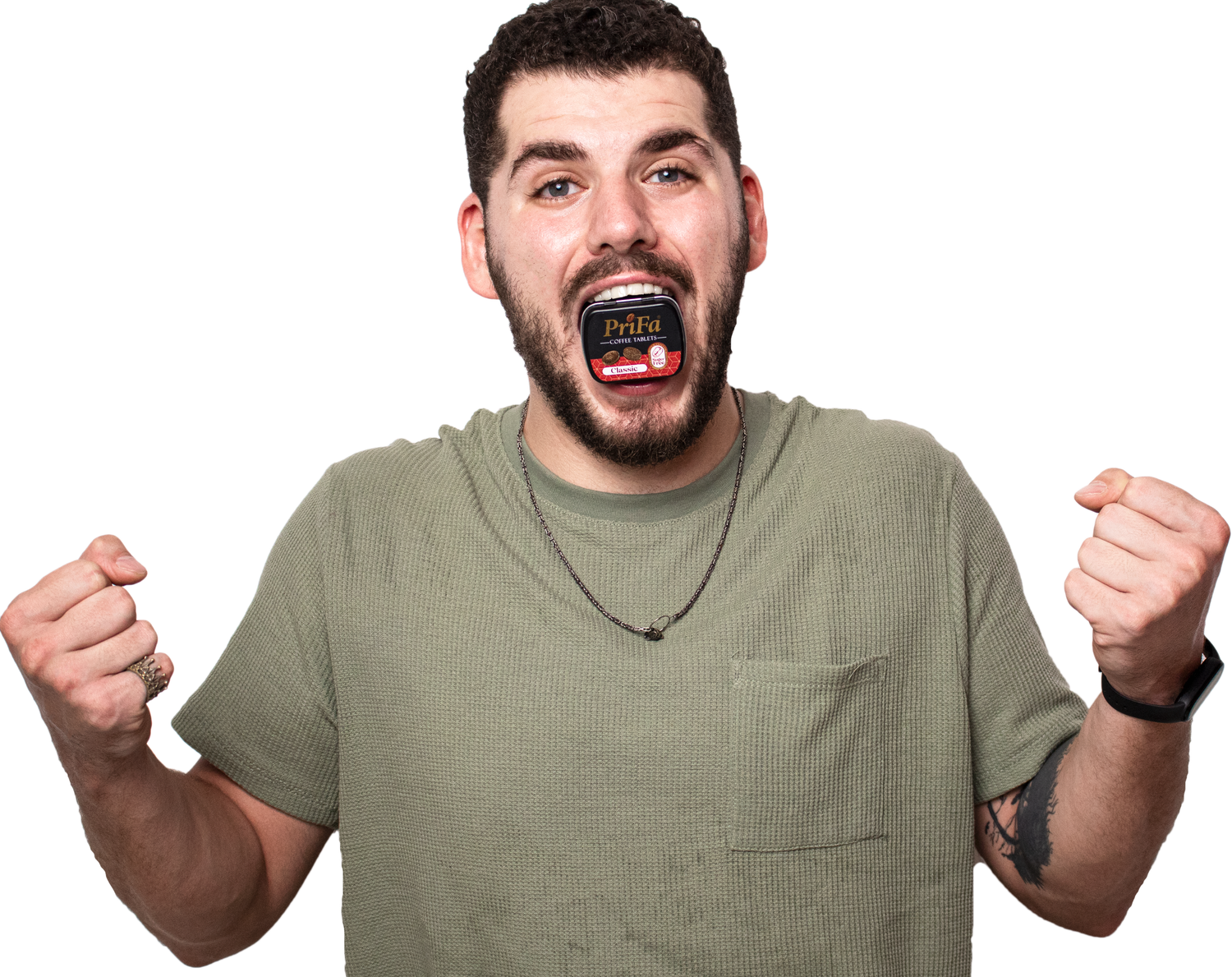 Healthier Energy Boost on the Go
Say goodbye to sugary and calorie-laden coffee drinks! Prifa Coffee Tablets provide a healthier alternative, free from added sugars, sorbitol, and gluten. With a quick and easy dissolving tablet, you can now enjoy the energizing power of coffee without any guilt. Whether you're heading to work, the gym, or simply need a pick-me-up during the day, Prifa Coffee Tablets offer a convenient way to stay energized and focused without compromising your health.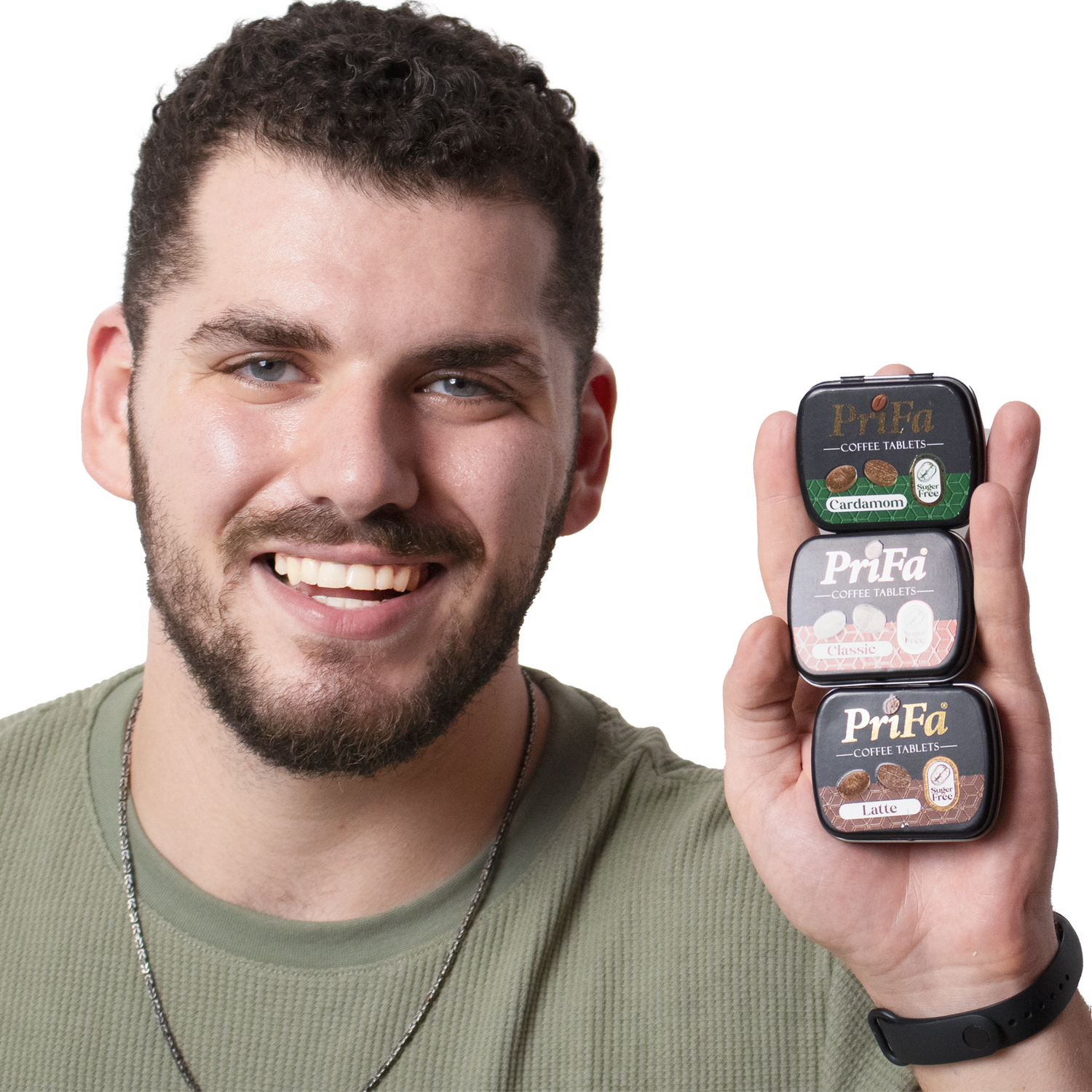 Unleash Your Productivity and Focus
Prifa Coffee Tablets go beyond providing an energy boost. With their carefully selected premium ingredients, Each tablet contains up to 30mg of caffeine to help you stay alert and focused. These tablets deliver a smoother, mellow flavor that takes you on a delightful coffee journey. Experience the magic of focus and enhanced cognitive function as you indulge on these pocket-sized delights. No more waiting for your coffee to brew or dealing with spills and messes – just take a tablet and let your productivity soar.
.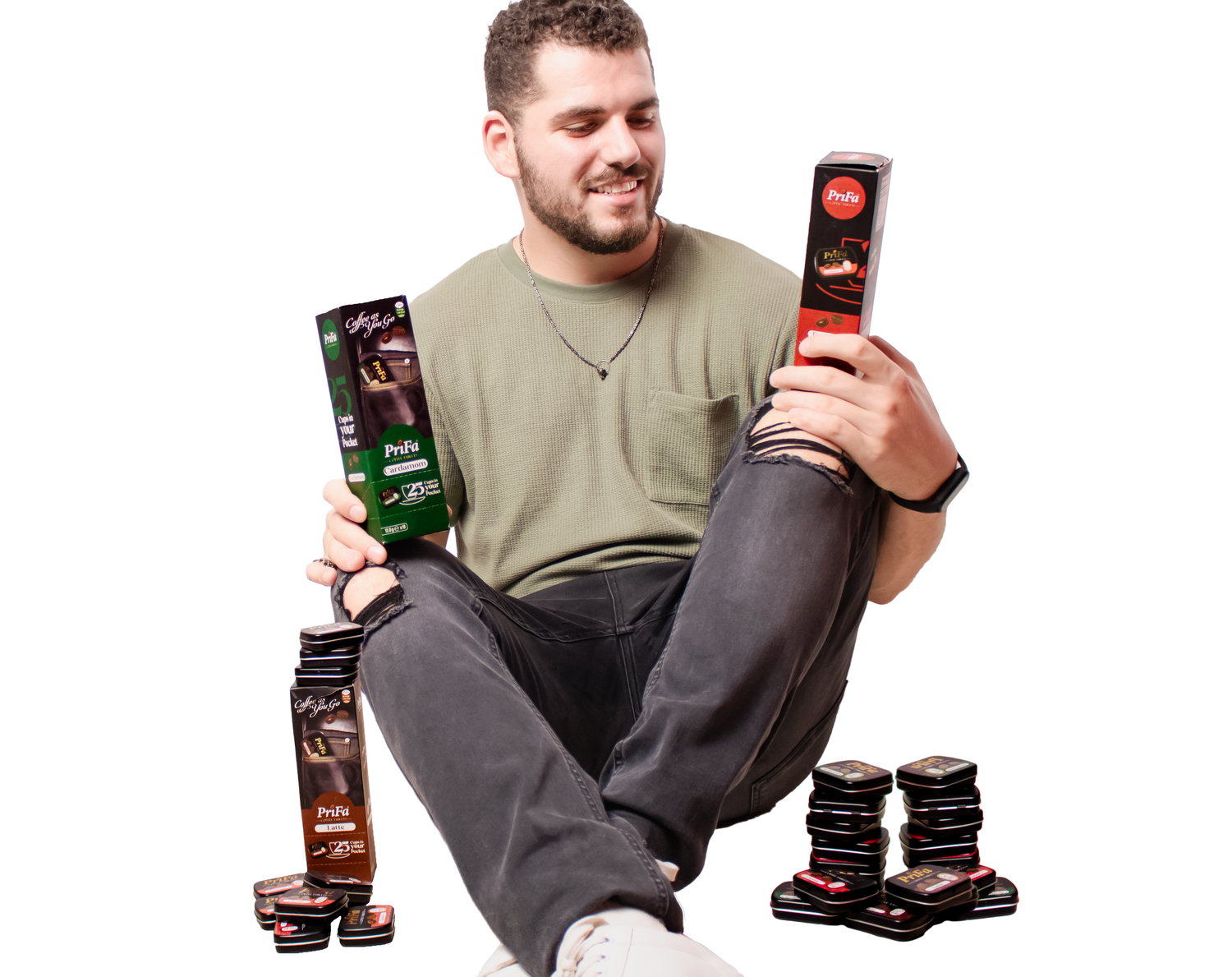 Coffee on Your Terms, Anytime, Anywhere
Prifa Coffee Tablets bring you the freedom to enjoy coffee whenever and wherever you want. Whether you're traveling, camping, or in the middle of a busy day, these tablets fit right in your pocket, ready to be savored at your convenience. No more searching for coffee shops or waiting in lines – you have your favorite coffee at your fingertips, ready to invigorate your senses and brighten your day.
Frequently Asked Questions
How do I use Prifa Coffee Tablets?

Simply place one tablet in your mouth and let it dissolve. No need for a cup or water – enjoy your coffee on the go.
How much caffeine is in each tablet?

Each tablet contains up to 30mg of caffeine, providing a balanced and controlled dose for enhanced alertness and focus.
Can I take Prifa Coffee Tablets before a workout?

Absolutely! The caffeine in our tablets can help boost your energy and focus, making them a great option for a pre-workout pick-me-up.
Can I use these tablets as a replacement for my morning coffee?

Absolutely, Prifa Coffee Tablets are designed to provide you with the coffee experience you love, but in a more convenient and healthier form.
How many tablets can I consume in a day?

We recommend not exceeding 3 tablets per day to ensure a moderate caffeine intake.
Are these tablets flavored?

Yes, our tablets come in three delightful flavors: Espresso, Latte, and Cardamom. Each tablet offers a unique and mellow coffee experience that caters to your taste preferences.
Can I give these tablets to my children?

Prifa Coffee Tablets are formulated for adult consumption and are not recommended for children.
Can I dissolve these tablets in water?

There's no need to dissolve them in water. Just let the tablet dissolve in your mouth for an instant coffee experience.
Do the tablets contain any artificial sweeteners?

No, our coffee tablets are free from artificial sweeteners, providing you with a natural coffee experience.