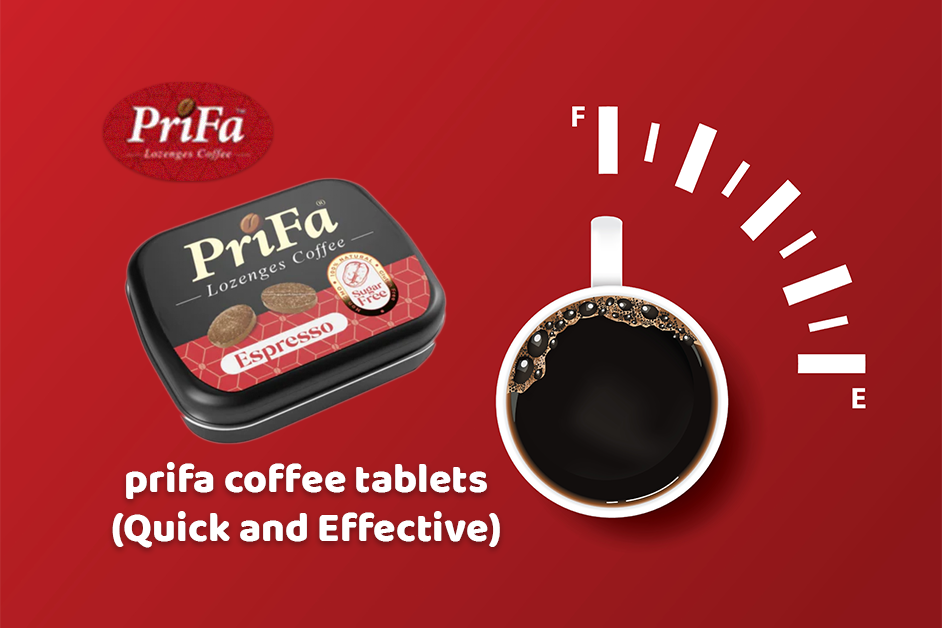 Prifa Coffee Tablets: The Smart Choice
Prifa coffee tablets were developed to satisfy a real need for enjoying coffee and experiencing its beloved taste and excellent effects at any time or place.
We've crafted this article on the Prifaco blog to delve into information we believe you should know about Prifa tablets, allowing you to assess your need for them and the benefits of carrying and consuming them during your daily activities.
So, we invite you to follow along until the end...
What are Prifa coffee tablets?
These products are created to provide an easy and effective way to experience the positive effects of coffee on the body and mood.
Prifa coffee tablets come in the form of a chewable bean, available in three flavors: Latte, Espresso, and Cardamom. They contain a quantity of roasted coffee extract, combined with some high-nutrient natural ingredients, enhancing the coffee's effects.
In this manner, Prifa tablets combine ease and convenience for on-the-go individuals, offering an excellent option for those seeking to enjoy the benefits of coffee without the need for specialized machinery or complex preparations.
Why choose Prifa coffee tablets?
Below we mention the most important things that we strive to be the first value you get when you choose Prifa, which are:
1- Fast-Acting
Recognizing the need for quick energy, we found that common choices like coffee and caffeine pills take over 30 minutes to have an effect.
Prifa coffee tablets, however, can take effect in 5-10 minutes due to their direct absorption through saliva, unlike other options that absorb in the intestines, delaying their impact.
2- Natural Ingredients
Prifa tablets contain entirely natural, plant-based components, such as premium coffee bean extract, gum Arabic, plant-based cream (mostly derived from coconut milk), and caffeine.
They are free from sugar, gluten, sorbitol, and genetically modified organisms, ensuring no negative side effects while preserving your health and naturally supporting the body's energy.
To learn more about the ingredients, read this article: "Ingredients of Prifa Coffee Tablets."
3- Cost-Effective
Consuming Prifa tablets negates the daily purchase of instant coffee at work. Furthermore, Prifa is healthy, natural, faster acting, and less harmful. Therefore, its reasonable price cannot be compared to the value it offers compared to many other products.
Additionally, it's an innovative and cost-effective gift idea for coffee lovers, expressing your care and affection, especially if presented in an attractive box.
4- Superior Alternative
If you're accustomed to energy drinks, caffeine pills, or coffee, Prifa tablets serve as a better alternative as they are free from the sugar present in energy drinks.
Moreover, they contain an ideal amount of caffeine, unlike caffeine pills and energy drinks, protecting you from the adverse effects of high caffeine levels in the blood and the risk of addiction. They are also gentle on the stomach, causing no discomfort to the digestive system, unlike coffee or energy drinks for some individuals.
5- Environmentally Friendly
Prifa tablets are made from coffee beans cultivated by farmers who follow ethical farming practices. They are packaged in environmentally friendly, recyclable containers, causing no negative impact on the environment.
6- Portable and Convenient
Prifa stands out for its practicality, easily fitting into pockets for on-the-go consumption, providing an opportunity to have coffee while on the move whenever desired.
Order now and savor this rich experience!
What are the benefits of using Prifa coffee?
Prifa coffee tablets not only provide a good taste that keeps you from drinking coffee, but they also provide you with many benefits during your day, including the following:
1-  Concentration Power
There is a clear connection between consuming coffee and enhancing focus, which Prifa tablets effortlessly provide.
2-  Energy and Health
Getting a daily energy boost from a tablet while maintaining health represents a challenge that Prifa has overcome, to deliver its ideal tablets.
3-  Activity and Refreshment
Many people experience midday lethargy and a loss of strength, for which Prifa tablets provide the instant activity they need.
4-  Heightened Productivity
Employees often lack an energy source during long work hours, so Prifa tablets were designed to provide a genuine means to boost productivity.
Who needs to use Prifa coffee tablets?
Prifa tablets serve as an ideal energy tool, offering the benefits and taste of coffee for:
On-the-Go Individuals: Those with a busy lifestyle or frequently on the move might find coffee tablets convenient for a quick caffeine boost without the hassle of brewing coffee.
Athletes: Pre workouts or events, athletes might use coffee tablets for a rapid energy kick to enhance performance.
Travelers: Long-distance travelers, drivers, or individuals in transit may find coffee tablets handy for staying alert during journeys.
Students: Especially before exam or when intense concentration is required, students might use coffee tablets for a quick energy boost.
Pregnant Individuals: For those who enjoy the taste of coffee but are cautious of the potential effects of excessive caffeine during pregnancy, specially formulated low-dose coffee tablets might be a suitable alternative.
Health-Conscious Individuals: Some people prefer the controlled, measured caffeine intake offered by coffee tablets and appreciate the ability to choose specific formulations, such as low-sugar or organic options.
Don't hesitate, order Prifa coffee tablets today, and choose your preferred flavor from our store!
Frequently Asked Questions
Do Prifa coffee tablets have any side effects?
Prifa tablets contain entirely natural ingredients and do not include sugar, gluten, sorbitol, or genetically modified substances. They are gentle on the stomach and have shown no negative side effects.
How can I buy Prifa coffee tablets?
You can order through our online store and choose your preferred flavor among the available options:
Get your Prifa coffee tablets now and enjoy energy and health anytime, anywhere!
For more information about Prifa tablets, you can contact us at: +01 23456789.
Edited by: Prifaco©