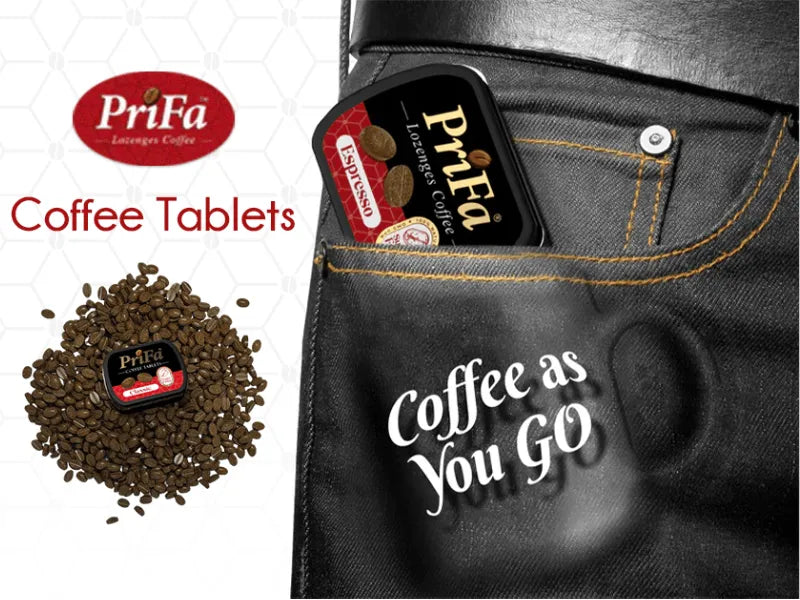 Your Guide to Discovering the Easiest Ways to Enjoy Coffee on the Go
Consuming coffee on the go has become a common and beloved practice, as it provides a pleasant sensation on the journey, uplifts your mood, and instills energy and vitality in you.
If you're seeking an easy way to enjoy coffee in an innovative style that suits all settings, you'll find in this Prifaco article the best available methods for savoring a flavor you need every day, regardless of your location.
What are the best ways to drink coffee on the go?
There are some easy and convenient options when you need to drink coffee on the go, and we will simplify them for you below:
1-  Instant Coffee
One of the easiest and most common options is to enjoy instant coffee, which comes in easily dissolvable packets. When you crave coffee, all you have to do is put the contents of an instant coffee packet into a suitable travel cup, add hot water, and then savor the aroma and taste as you desire.
2-  Prepackaged Cold Brew
Drinking prepackaged Cold Brew coffee from bottles is a convenient and delicious way to enjoy coffee on the go. These bottles contain cold, concentrated coffee ready to drink, and you can mix it with water or milk to make a refreshing iced coffee.
They are available in different caffeine levels to suit your preferences.
3-  Hot Coffee in a Travel Mug
If you're someone who enjoys sipping hot coffee while on the move, investing in a thermos or a good coffee cup that keeps the temperature is a must. This way, you'll have hot coffee for extended periods to enjoy whenever you like.
It's essential to choose a practical thermos that provides excellent heat insulation and a leak-proof design.
4-  Prifaco Coffee Tablets
One of the easiest, quickest, and most convenient options is to get Prifaco coffee Tablets. They provide the energy of a cup of coffee and the flavor you crave in a disc-shaped coffee bean, conveniently stored in a small box that fits in your pocket.
What's unique about Prifaco coffee tablets to make it the best coffee on the go?
Prifaco coffee tablets are the ideal choice for enjoying coffee on the go because:
They are made from high-quality coffee beans sourced from the best coffee-growing regions worldwide, with a commitment to ethical farming practices.
These capsules provide both convenience and delicious taste without compromising on health benefits.
Prifaco is also distinguished by its commitment to sustainability, using eco-friendly packaging.
They are composed of entirely natural, healthy, and completely safe plant-based materials with no known side effects.
Read more about : coffee tablets help with increased productivity at work 
Useful medical information about drinking coffee on the go
If you enjoy having coffee on your way to work or university, or while driving, you'll be pleased to know the following:
Drinking coffee increases concentration during work, study, or driving, helping you boost productivity.
Coffee contains caffeine, which naturally improves your mood, as research suggests that consuming caffeine can counter feelings of depression.
Having a cup of coffee can elevate your energy levels, provide a sense of refreshment and alertness, and help you get through your day comfortably.
Coffee also has the ability to enhance positivity and make you feel happier.
Additionally, coffee has antioxidant properties and resistance to chronic diseases such as diabetes and cancer.
Frequently asked questions about drinking coffee on the go
What is the method for preparing coffee while on the go?
Preparing coffee on the go has become easier than ever before, thanks to multiple simple options such as:
Instant coffee.
Pre-made Cold Brew coffee.
Fresh coffee stored in a thermal container.
Ready-to-use and healthy coffee tablets
Are there alternatives to liquid coffee while on the move?
Daily coffee consumption is a must, but busy schedules and commutes can hinder the ability to prepare and enjoy it. Therefore, the best alternative to liquid coffee in such circumstances is ready-to-use coffee tablets that you can carry and consume whenever you like.
For example, Prifaco tablets are made from coffee and natural plant ingredients, providing an energy boost along with the beloved coffee flavor. They also require no preparation or time to make.
Order it now... and enjoy the flavor of coffee every day, everywhere!
Edited by: Prifaco©
Sources: